Are you looking to make months of progress in your relationship in a matter of days?  Perhaps you have a busy schedule and weekly sessions will be hard to commit to.   Maybe there is a time sensitive question you're trying to get answered.  Good news!  A couples intensive may be just the answer you're looking for.
Over the course of a 1-day or 2-day couples intensive you can make dramatic progress in your relationship.
I provide affirmative couples counseling intensives for couples either in person in Denver, Colorado or San Francisco, California or online.
What is a couples therapy intensive?
Over the course of 1 or 2 full days together I can help you lay the foundation for making lasting changes in your relationship.  I lead you through a structured and highly personalized intensive retreat aimed to help you make months of progress very quickly.
What kind of issues can be dealt with in a relationship intensive?
There are many things that can be addressed over the course of a 1 day or 2 day relationship intensive.  Here are just a few...
Betrayal or breach of trust
Communication problems
Emotional or physical affairs
Reconnection and rekindling the "spark"
Opening up a relationship
Not every issue or couple is right for an intensive.  We will talk through the pros and cons in a consultation call before moving forward.
How does a couples intensive work?
I have a structured, proven method to help you make progress in your relationship.  This will start before we meet for the intensive.  The first step is to schedule a free 30-60 minute consultation call.
If we decide to work together, I will ask you both to fill out an extensive questionnaire so that we can hit the ground running when we get started.
When we meet for the intensive, I will lead you through a series of exercises, teaching you a method for how better to communicate about tough topics.  Typically we'll meet from 9-4:30 pm with a break for lunch.
You will leave the weekend with a book full of resources to keep the work moving.
There will be a follow up 90 minute session included in the rate of the intensive.
Ready to Learn More
Schedule a complimentary phone consultation to learn more about couples counseling.
Safety
I work with couples in all different types of relationships, whether you're married, dating, straight or gay.  Whatever your relationship structure, my aim is to make you will feel welcome, understood, though at times, I will challenge you.  But not about how you organize your relationship. As a relationship therapist, I will introduce different ways to deal with old issues.
I know it can be intimidating to think about committing to a couples intensive.  If you're interested in front loading the work and making months of progress in just a couple of days, please reach out to learn more about the process.
I'm ready for a couples intensive but I still have some questions and concerns…
What if we can't fully resolve our issues over the course of two full days?
In addition to the tools, resources and coaching that I will give you over the course of the intensive, we will meet for a follow up session 3-6 weeks after to reevaluate your progress.  As with anything new, you will need to practice the skills we work on in the days and weeks after our meetings.  Sometimes we'll decide to meet for extra follow-ups, sometimes couples will be doing well and that won't be needed.
Is there a guarantee the weekend will work?
Yes and no.  If you show up motivated, willing to look at your role in the dynamic and eager to practice after the intensive, you will be amazed at how much progress you can make in a short time.  But as with any kind of therapy or counseling, there is no guarantee.
How much does this cost?
It will be a big commitment of time and money.  As there is much work that goes into the intensive before we meet to personalize the experience for you, and I'm reserving two full days for our work, it will be an investment.  But if you were to meet with me weekly over the course of a few months, that would be an investment of time and money, too.  I like to think of it as front loading the work and expense.
You can get un-stuck
If you've tried other types of couples therapy before, the intensive may be a good option for you.  It's a focused, dedicated experience that can allow you to work through blocks that traditional once-a-week therapy often falls short addressing.
Training and Experience
I have had years of experience working with and training to work with couples and relationships.  Nothing lights me up more than helping folks heal their relationships.  Not every therapist has specific training to work with couples, so I recommend that you research this prior to selecting someone to work with.  My work is heavily influenced by Ellyn Bader and the developmental model.  You can learn more about that approach here.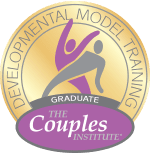 More resources for couples counseling
Ready to learn more about couples therapy?
Schedule a free 15 minute phone consultation today.
Get the Time-Out Roadmap today!
Free and sent direct to your inbox to help your relationship.