The idea of starting couples counseling can be daunting.  It can also be an exciting opportunity for growth and reconnection.  But I don't want to get ahead of myself.  I'm passionate about helping partners build more meaningful, connected and authentic relationships.
Chances are if you're reading this, you're in a lot of pain right now.
I provide affirmative couples counseling online for those living in the states of the California or Colorado.  I do also have an office in the Highlands northwest area of Denver, Colorado.
Heal the betrayal
A betrayal or breach of trust in your relationship can be devastating. If there has been a discovery of infidelity, whether sexual, emotional or financial my guess is you probably feel like the rug has been pulled out from underneath you. The good news is that you can move through the pain and your relationship can come out stronger than ever.  But it will take some time and hard work.
Are you having trouble communicating?
Do you feel lonely and isolated in your relationship?
I help couples navigate through those roadblocks that get in the way of intimacy and connection.  Chances are if you are willing to make some changes in the way you interact with your partner, you can drastically improve the way that you connect with your partner.
When the communication breaks down in your relationship, trust and closeness often disappear.
Has your sex life become non-existent? Is it hard to talk openly about what you really desire?  Are there differences in your sexual wants or needs?
Over time, sex can ebb and flow in any relationship. However, it is important to be able to talk about and ask for what you need and want.
What will the sessions be like?
You may be nervous about beginning a process like relationship counseling. For some people it can be scary to share about the intimate thoughts and feelings you have about your partner.
I offer an opportunity to do things in a new way.
I will help you create a different conversation through direct feedback and focused therapy. In relationship counseling, you'll break the stuck patterns you have with one another. When you can see and be seen, and hear and be heard, repair is possible and closeness can return.
If you'd like to hear more about what to expect from couples therapy with me, please check out this blog post and video about the topic.
Ready to Learn More
Schedule a complimentary phone consultation to learn more about couples counseling.
Safety
I work with couples in all different types of relationships, whether you're married, dating, straight or gay.  Whatever your relationship structure, my aim is to make you will feel welcome, understood, though at times, I will challenge you.  But not about how you organize your relationship. As a relationship therapist, I will introduce different ways to deal with old issues.
I know it can be intimidating to start the process of couples therapy, however often times people will find relief soon and begin the journey to a happier more satisfying relationship.
I'm ready for couples counseling but I still have some questions and concerns…
I'm not sure my partner will come to therapy. 
It's true that you can't make your partner come in for therapy if they're not willing.  If this is concern for you, set up a consultation with me and we can strategize what the best plan of action may be.  Perhaps if you lay out why this step is important for your relationship your partner will listen.
What if counseling makes things worse? 
It is a common concern that bringing things up in couples counseling may make things worse.  You are certainly not alone in that fear.  However, by speaking the truth and learning new tools you can have tough conversations and heal the past.
What if it doesn't work? 
Yes, it's scary to think about what if couples therapy doesn't make things better.  It's a big commitment and investment of time and energy.  For a thought experiment, think for a moment about what it will be like if couples counseling DOES work.   Imagine how much stronger your relationship can become.  Imagine if you stop having that same fight and you can be close and connected.
You can heal your relationship
While it will take commitment, you can improve the way talk to each other, increase intimacy and gain tools to have the relationship you crave.
Training and Experience
I have had years of experience working with and training to work with couples and relationships.  Nothing lights me up more than helping folks heal their relationships.  Not every therapist has specific training to work with couples, so I recommend that you research this prior to selecting someone to work with.  My work is heavily influenced by Ellyn Bader and the developmental model.  You can learn more about that approach here.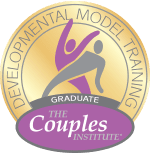 More resources for couples counseling
Ready to learn more about couples therapy?
Schedule a free 15 minute phone consultation today.
Get the Time-Out Roadmap today!
Free and sent direct to your inbox to help your relationship.