Couples Therapy for Gay Men
in California and Colorado
Being gay is awesome.  It's also probably not the only thing about you that's important. I provide online couples therapy for gay men in California and Colorado and in-person relationship counseling for gay men in Denver, Colorado.
Why work with a gay therapist?
You want your therapist to get you.  You don't want to have to describe the difference between Grindr and Growlr.
It's hard enough dealing with anxiety or relationship stress without the added fear of being misunderstood.
Granted, just because we share a sexual orientation doesn't mean I'll understand everything about you.  However, hopefully you'll feel comfortable being yourself and bringing up tough topics.
If we work together, you can experience someone who is curious to know more about you and what your experience has been like.  Because of the benefits of online therapy, we can work together if you live anywhere in the state of California or Colorado.
Being open and authentic
Often people will come in and say that they weren't fully open with previous therapists.  The didn't feel like they could share about their substance use, sex life or something else related to their sexuality.
Let's change that.
A different kind of "coming out"
Coming out is a rite of passage that all LGBTQ+ people go through.  And we keep going through it our entire lives every time we start a new job or meet a new set of people.  Some people have easy experiences and for others it can be a real challenge.  There's a second coming out that counseling and therapy can help with.
In learning to hide our sexuality, we also learn to hide other important parts of ourselves.  Some of us become people pleasers.  Others become super focused on work and career.
In "coming out" a second time you can figure out more clearly what changes you want to make in your life to be more authentic and satisfied.
Whether you live in West Hollywood, the Castro, Sacramento, Fresno or anywhere else in the state of California, we can now work together over secure video right from the comfort of your own home.  I'm also licensed in Colorado and can provide virtual therapy for those in Denver, Colorado Springs, Boulder and beyond.
Ready to Take the First Step?
Schedule a free 15 minute phone consultation to learn more about counseling.
 I'm more than just my sexuality
Of course you are.  However, there are some issues and concerns that are unique to our community and LGBT counseling whether in San Francisco or Denver.
Issues that come up for gay men in couples therapy:
Body image concerns
Coming out
Dating
Gay parenting
Long-term effects of surviving the HIV/AIDS crisis (whether positive or negative)
Loneliness
Masculinity issues
Monogamous relationship support
Non-monogamous relationship support
Out of control sexual behavior
Overcoming self-criticism
Processing internalized homophobia
Self-esteem
Undesired use of alcohol and/or drugs
Unprocessed or unresolved trauma
I want to start couples therapy but I still have some questions and concerns…
I'm worried my partner won't be game to do couples therapy.   
Yes.  This can be a problem.  If your partner isn't ready to do the work, I'd recommend individual therapy or asking specifically why they don't feel willing to invest in better communication with you.
I'm worried therapy will take a long time.  Is that true? 
The process of therapy is different for everyone.  I know, that's such a "therapist" response.  You don't have to be in therapy forever, but it will most likely be a big investment of time, money and hard work.
Do you do longer sessions?  50 minutes doesn't seem like enough time for couples therapy.  
I don't do 50 minute sessions when working with a couple.  It's not enough time.  I have learned this after working with many, many couples.  We often open something up and then "times up" and I send you into the world primed to have a big fight.  I prefer to work with couples for 75-90 minutes.  Ideally, we kick start the process with a full day or two intensive to front load the hard work and set you up for achieving your goals more quickly.
I don't live in Denver and I see you do virtual therapy.  Does it work as well as in person counseling?  
Yes.  It works great.  I love the flexibility of meeting over video and have been pleasantly surprised at the success of working virtually.  If you're nervous about it, let's set up a free virtual consult and you can judge for yourself.  For intensives and full day sessions, in person is preferable.
We're not a gay male couple, would we still be a good fit to work together?  
That depends.  Are you motivated?  Are you ready to have some risky, powerful conversations?  Are you comfortable working with an out gay therapist?  If you answered yes to all the above, then we might be a good fit to work together.  Let's find a time for a consultation and I will be completely honest about whether or not I'm the best person to help.  If I'm not, I have many incredible colleagues I can refer you to.
I'm ready to take the next step and start therapy.
Together we can make a plan so that you can achieve your goals and live the more authentic, meaningful life you desire.
Start here...
Schedule a free 15 minute phone consultation.
More resources for gay men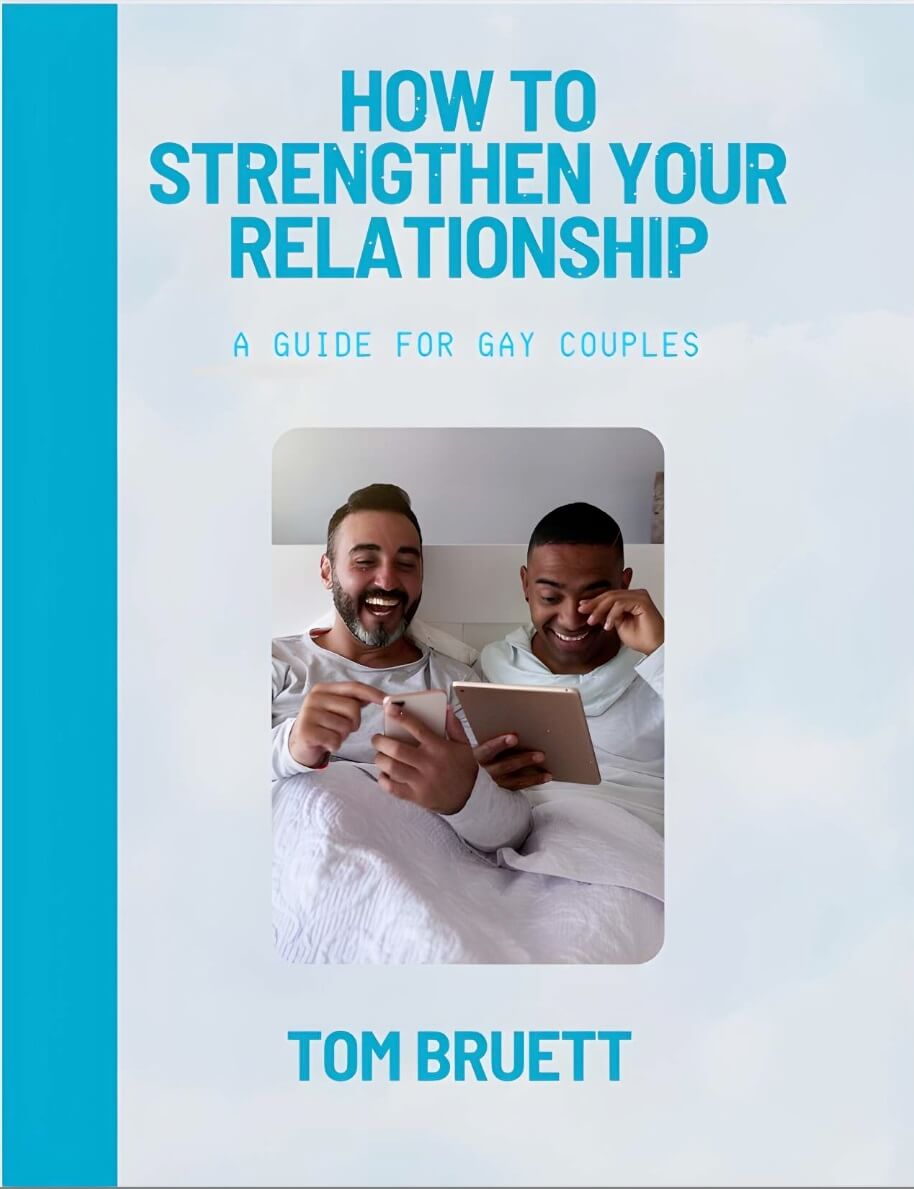 Get the free eBook How to Strengthen Your Relationship, a guide for gay couples
This free 30+ page eBook will be sent directly to your inbox today!