What is a couples therapy intensive?
Couples therapy retreats or intensives are a way to condense and accelerate the process of relationship counseling. Over the course of two full days of working together, we can make the kind of progress that usually takes months of weekly 50-minute sessions.
What is a couples intensive?
A couples therapy retreat or intensive is a condensed and accelerated version of relationship therapy. Typically, you can achieve months of progress over the course of a couple days. Ideally, you're able to get out of your typical routine and set aside a weekend to go deep on what you want to improve in your relationship. The intensive is structured and tailored to the needs of your unique relationship.
Who are relationship intensives for?
Intensives work especially well if you're ready to make some big changes in your relationship. If you've tried weekly therapy and haven't gotten much traction, setting aside two full days to go deeper can be transformative. Intensives also work well for people who hate wasting time. If you've got a busy life with full careers, kids, or limits on your time, weekly therapy sessions may not work best for you. If you're also unsure about what you want to happen next in your relationship, retreats can be a quick way to learn a lot.
What should I expect from an intensive?
On the first day of the relationship retreat you can expect to lay a very solid foundation for the work ahead. You will learn a ton of information that will help set you up for success. I teach you about attachment science, how the brain works and lay the foundation for a new way to communicate with one another. I use a structured, yet personalized approach that takes full advantage of the benefits of meeting for a longer condensed time.
On the second day of the couples retreat, we begin to get into the nuts and bolts of what you're each going to have to work on to bring about the change you desire. Because we've laid a strong foundation the first day, on the second day you will have the tools to start going into deep discussions with confidence and support. And you'll have the benefit of a therapist in the room to help if things go off course. I am always amazed at how much can be covered when you don't have to stop after 50 minutes of work. We don't have to stop mid-fight because the therapy hour is over. I can help pace and lead you into better understanding and connection.
Like any kind of personal growth retreat or intensive, you are able to dedicate time to making progress that is concentrated and protected. I recommend people to book a hotel for the night in between the two sessions so that you're able to escape real life and put aside distractions. This way you can roll up your sleeves and get to work.
How does a relationship retreat work?
For my relationship intensives, I use a structured approach that I tailor to each unique relationship. The work will lay a solid foundation and then guide you into having the discussions that are paramount to bringing about the relief and healing you crave. Before we meet, you'll fill out extensive questionnaires that help me personalize the weekend to your specific needs. This also helps us hit the ground running, as I know a ton of information about each of you going into the intensive. This allows me to develop a roadmap around the places you typically get stuck.
You'll get a workbook full of tools and resources that will help you make the progress you're hoping for. I take my job as a coach, teacher and therapist seriously and will be putting on different hats throughout our time together to best help guide you through the process. Afterwards, we'll schedule a follow up session 2-6 weeks after to check on your progress and see how the results are holding up.
Speaking of results…?
What can one expect from a couples therapy intensive retreat? Over the course of our time together you will have a better understanding of your role in the relationship dynamic. You'll understand how heightened emotions impact the brain and therefore your ability to be present with your partner. We'll look at what gets in the way of you being the partner you want to be. And I'll teach you a series of helpful tools that will enable you to make progress on topics that have felt impossible to tackle in the past. I will then send you back into the world with a plan for how to keep the progress alive and move toward a more connected, authentic and deep relationship.
Are there couples who wouldn't be good for an intensive?
Yes. First, unless everyone involved is committed to making some big progress, this process will not work. If this is something you're interested in learning more about, set up a free consultation call with me so that we can evaluate if an intensive is right for you. There are things that would make an intensive less likely to be successful and I will go over those with you on the call. For example, if you have an active substance use problem or untreated depression or ADHD, I would recommend working on those pieces before attempting an intensive. I want this to be an amazing and life changing process for you, so I only accept couples that are ready and appropriate for intensives.
What are some of the most common things that couples come to an intensive to work on?
If you're struggling with communication problems, intimacy issues, or conflicts that leave you feeling stuck, a relationship intensive can be a game changer. If you're hoping to repair things after a betrayal or work on building trust, an intensive is a great way to make lasting progress. If you're not sure if you want to stay in your relationship, doing some dedicated intensive work can help you make progress on making a decision.
Can we still you after the intensive if we feel there's more work to do?
Yes, it is usually possible to keep working together in the future if scheduling permits. However, most couples will not feel the need to meet weekly or biweekly after completing a two day intensive. Often times you have the skills to go off and do the work on your own, checking in occasionally with a therapist when bigger issues arise. Of course this depends on your unique relationship. If you've had a lot of trauma or a big betrayal, it may make sense to keep meeting more often for a bit after the intensive. This is something that we can talk openly and frankly about at the end of our time together. During our consultation, we will also explore likely scenarios for after the couples retreat.
What does an intensive cost? What's covered in the cost?
The cost of the intensive includes two full days working together, a 90 minute follow up session two to six weeks out, a workbook full of tools and resources and hours of prep on my end to tailor the experience to your unique relationship goals. It will be a big investment of time and money. However, so is divorce or separation. Relationship counseling in general is an investment. With an intensive you're frontloading the cost and time.
I'm interested. What's the first step?
Reach out to me and let's find a time for a free video consultation. We can talk about the pros and cons of intensives and I can help you determine whether it might be right for you and your relationship.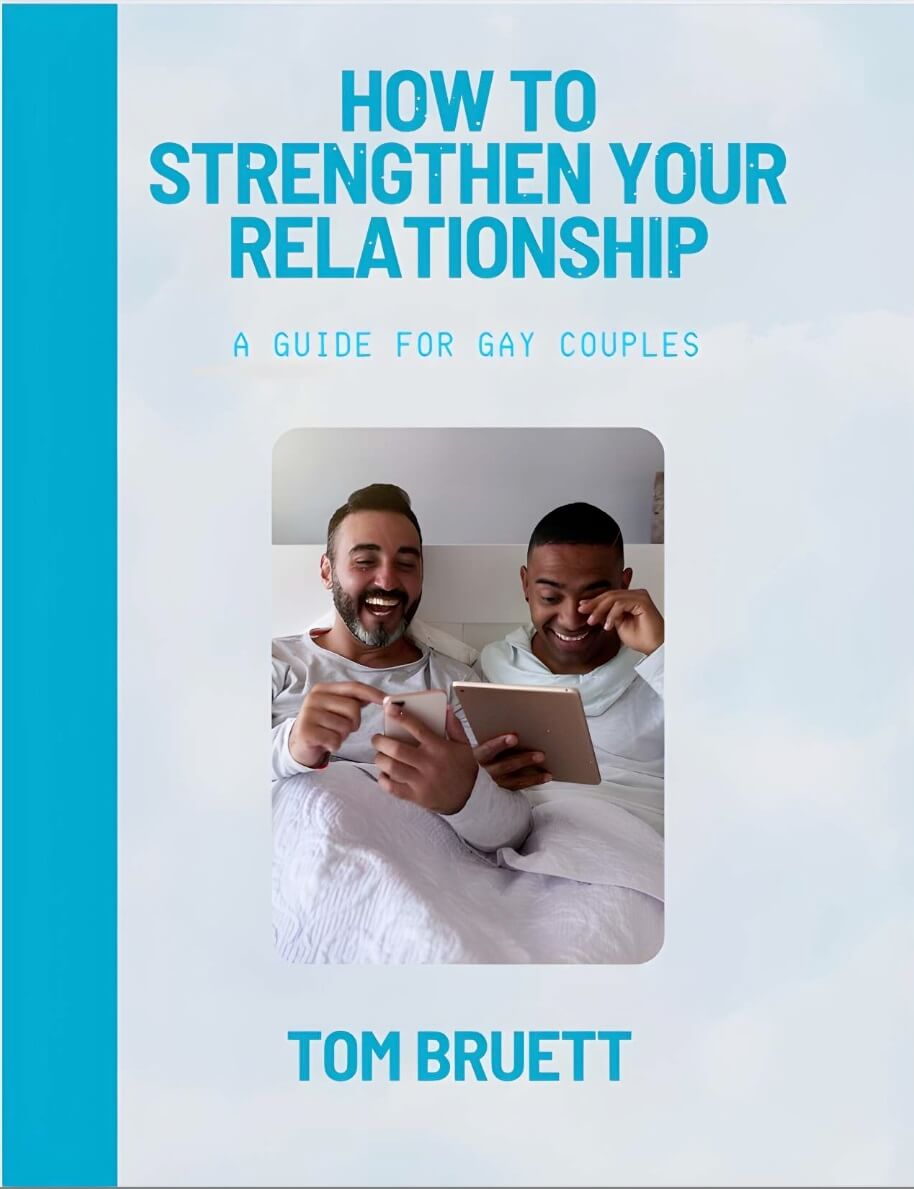 Get the free eBook How to Strengthen Your Relationship, a guide for gay couples
This free 30+ page eBook will be sent directly to your inbox today!