Hi, I'm Tom.
I'd love to help you become your most authentic self.
When you can let down your walls and become your authentic self-true intimacy is possible.
Letting down your walls
Growing up as a gay man in this culture, I know a thing or two about hiding. Hiding a part of yourself is like falling asleep on a commuter train. You wake up realizing you've missed your stop. And now you're in the wrong career or an unfulfilling relationship. Whatever your age, gender, race or sexual orientation hiding a part of yourself can be stifling and it can get in the way of building more authentic and meaningful relationships.
As someone who has gone through the painful process of divorce, done a ton of self-work and found love again, I can tell you that wherever you are in the process there is hope. And you don't have to do it alone.
And using the commuter train analogy, sometimes to get where you want to go you need to take a different, unconventional route. That's what I discovered.
Developing relationships
I'm a relational therapist, not a mmm-hmm-how-does-that-make-you-feel-type-therapist? I offer feedback and a perspective to shake you from your stuck patterns. I'll encourage you to be honest with yourself and look deeper. Often with some very honest questions.
Facing vulnerability together
Through working together I help you get in touch with those parts of yourself that you may have been ignoring. Together we'll find fresh solutions to face your vulnerabilities and put yourself out there again. By believing in you, my aim is to help you believe in yourself.
My Approach
My approach is patient, warm, and expressive. I'm not afraid of humor, anger or tears. Even if they happen all at the same time.
When we meet, you'll experience someone who is curious about you and genuinely interested in helping you achieve your goals.
Our sessions will feel like a conversation, and I will actively, passionately be engaged in helping you better understand your emotions and needs.
Always learning
One of my values is to invest a lot of time, money, and dedication into training and continued education. It invigorates me professionally and ensures I'm bringing up-to-date concepts into our work together.
Most importantly, my role is to see your potential for growth, even if you're unable to now.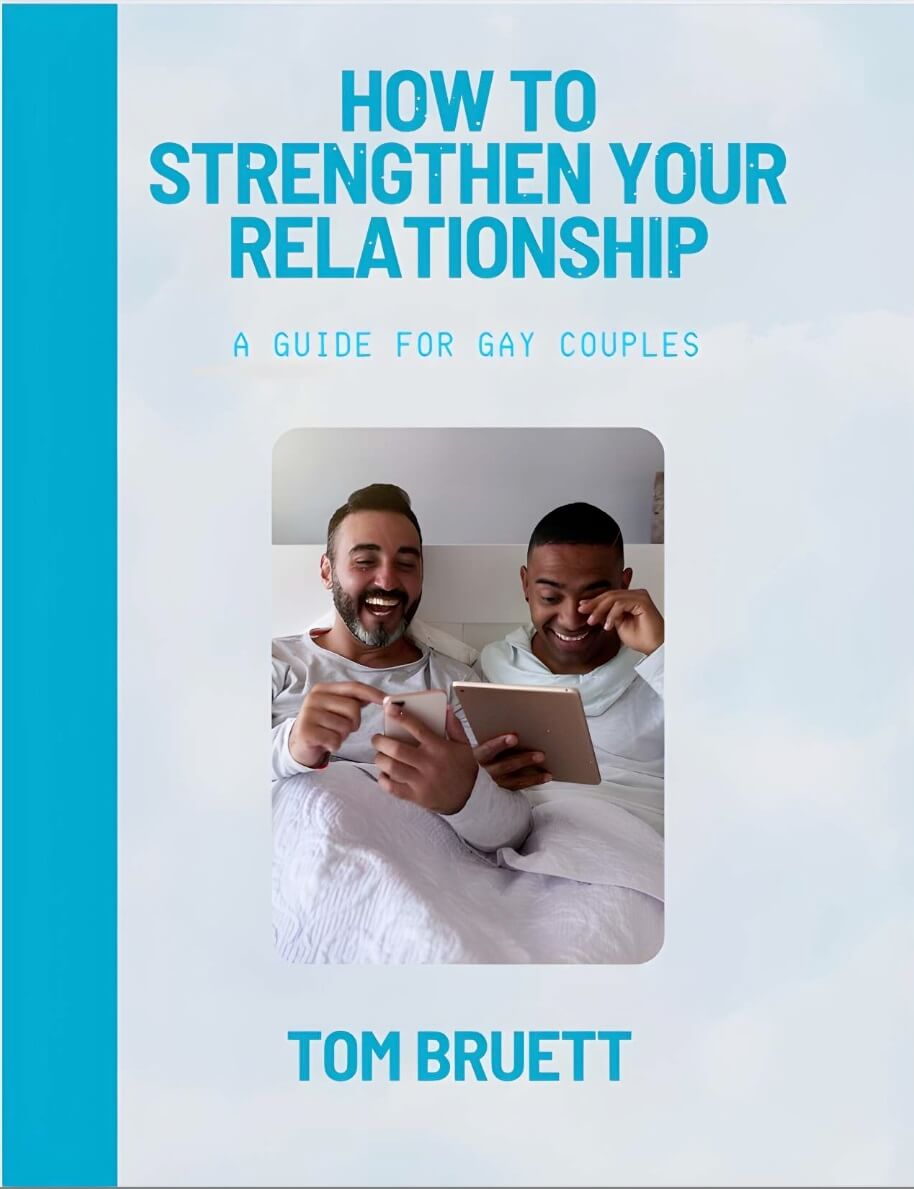 Get the free eBook How to Strengthen Your Relationship, a guide for gay couples
This free 30+ page eBook will be sent directly to your inbox today!
Ready to Take the First Step?
Schedule a free 15 minute phone consultation to see if we might be a good fit.